How CSEM technology can impact exploration investment decisions
In the November edition of AAPG Explorer, Daniel Zweidler, Daniel Baltar and Neville Barker analyze the potential impact of controlled-source electromagnetic (CSEM) information on exploration investment decisions.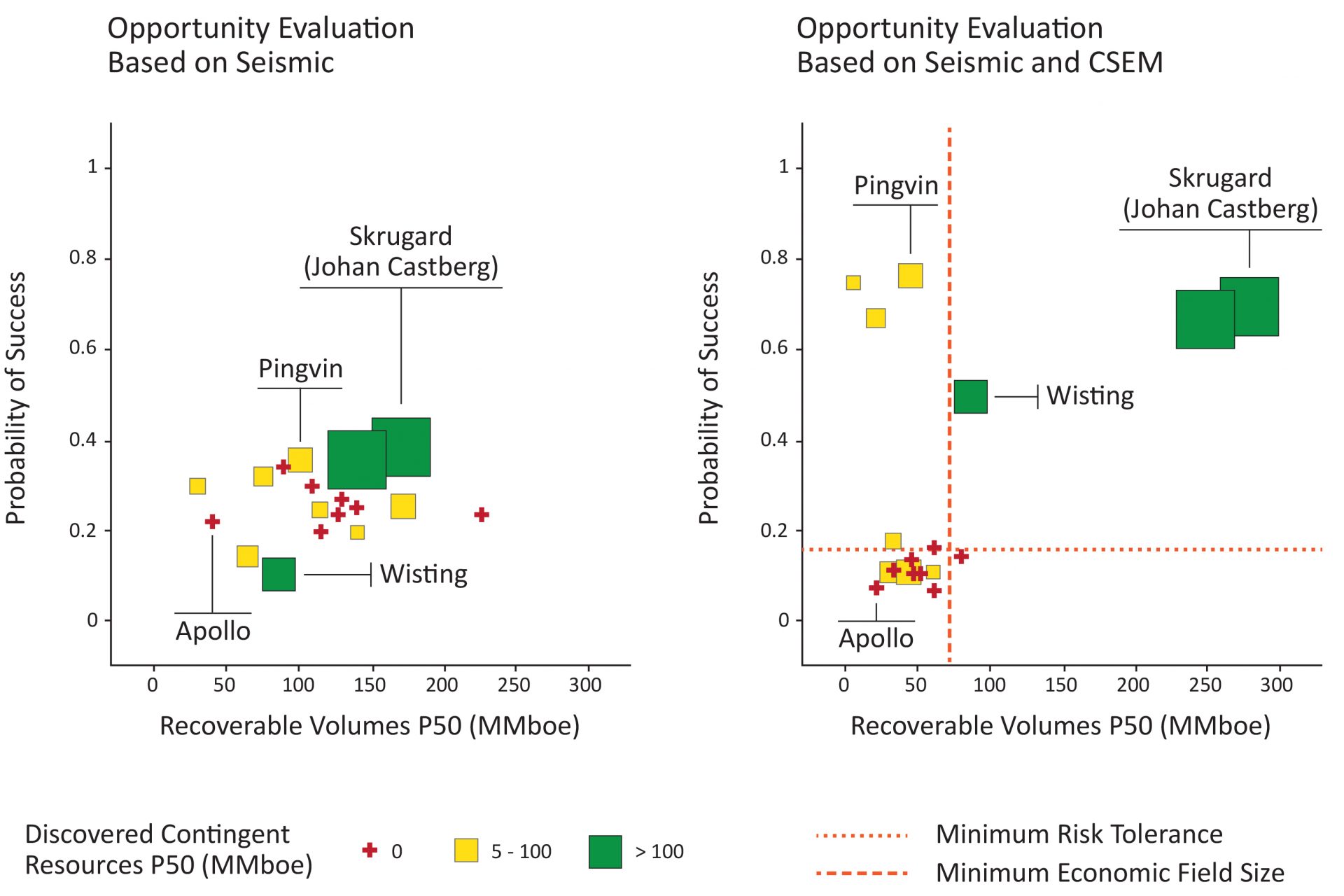 Below is a summary of the article. Click here to read the full article: "Additional Data Helps Investment Decisions".
Introduction
The often-volatile outcome of exploration investment decisions is tightly linked to the level of uncertainty in the geological interpretation and associated value assessment. In order to evaluate subsurface opportunities, information is needed. This comes at a cost, affecting the profitability of the investment. Successful exploration companies carefully consider the type of information required to make their decisions, and how the information is to be utilized to minimize uncertainty.
In this environment, the potential impact of new information has to be balanced against both its cost and the ease with which it can be embedded into existing decision-making processes.
CSEM Technology
CSEM has the potential to reduce some of the largest known uncertainties in exploratory prospectivity evaluation: basin fluid distribution, and the size (net rock volume) of potential hydrocarbon accumulations. Until recently, workflows designed for explorers to handle the CSEM information have been lacking. This is now changing as Baltar and Barker describe in their 2015 article – "Prospectivity Evaluation with CSEM" – for First Break magazine.
Impact on Investment Decisions
Analysis of a best-in-class CSEM dataset from the Barents Sea, covering 18 drilled wells, illustrates the information's value potential. Significantly greater portfolio polarization is achieved through an integrated interpretation compared to a seismic-focused opportunity evaluation; only the CSEM-integrated portfolio is seen to deliver a positive return on exploration investment in both USD 60 and USD 80 per barrel price scenarios.
Conclusions
CSEM technology has grown from its initial research form into a commercial tool with at least one clear value proposition: Known exploration uncertainties can be reduced with the combination of regionally extensive 3-D CSEM information and appropriately trained explorers.
The biggest challenge now lies with oil companies, who face the prospect of adapting their exploration workflows and training their people to harness this potential. Arguably this would be the biggest step-change in the way exploration should be conducted in decades; and like any process change it may be hard to implement, but will undoubtedly be exciting.
Click here to read the full article: "Additional Data Helps Investment Decisions"