Norwegian Research Council visits EMGS
EMGS was recently awarded with NOK 10 million by the Norwegian Research Council. The Council's special adviser Anders Steensen took the opportunity to visit us. Again.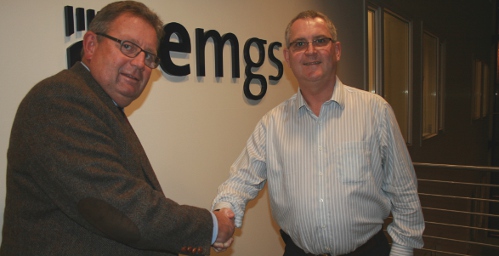 Anders Steensen, special adviser at the Norwegian Research Council, coordinates the funding from the DEMO 2000 project which awarded EMGS NOK 10 million in June of this year. He visited EMGS's headquarters in Trondheim 3 December to see how things were coming along with the company's current R&D projects.
From 3 employees to 300
This is Steensen's second visit to EMGS. The first time he visited EMGS in Trondheim was just before 2002, when the company was founded. Back then, Steensen was a journalist for the Norwegian engineering magazine Teknisk Ukeblad and EMGS was a company-in-the-making with no more than three people.
Those three people were the company's founding fathers Svein Ellingsrud, Terje Eidesmo and Ståle Johansen. Steensen recalled:
"It's nice to see how EM has grown into a significant business since the days when these three men were wracking their brains trying to come up with money for their new company."
Today, EMGS has over 300 employees around the world.
Steensen's one-day visit to EMGS on Wednesday included a tour of the data cluster, the acquisition department's lab and survey equipment and the Imaging and Integration Technology Center.
Of his visit, he said:
"From a project management perspective, it was interesting to hear how the current project on surveying technology is going. I gave EMGS some advice on practical ways to deal with project scopes which were far-reaching."
Did he learn anything new during his visit to EMGS?
"Actually, yes. Since EMGS also benefits from Research Council funding through the PETROMAKS 2 program it was only natural that EMGS talked about how they are developing better methods to image their EM data," he said.
Steensen is referring to the Gauss-Newton method which EMGS is developing. The purpose is to obtain a subsurface resistivity model which better reproduces the measured EM data and is even more consistent with prior geological information.
"We believe in this"
The NOK 10 million which EMGS was awarded for its project for next-generation controlled-source electromagnetic surveying technology, comes out of the DEMO 2000 program.
According to Steensen, the Research Council's money is funding approximately 25% of the pilot test- and demo phase of EMGS's ongoing R&D project for surveying technology.
"We believe in this next-generation equipment because it gives a higher degree of precision, much better conditions for signal strength and a better mapping of the subsurface. Moreover, we see how this will produce better results, for example in the Barents Sea."
The DEMO 2000 program is an initiative toward ensuring long-term competitiveness in the oil- and gas business and continued profitable development of petroleum resources of the Norwegian Continental Shelf (NCS).
High score
Applications are evaluated on the basis of several sub-categories like economic potential for NCS, qualification of new technology, export potential and level of innovation. In addition to the Research Council, E&P organizations also evaluated EMGS's DEMO 2000 application. Technical expertise from Lundin, Total, Statoil, ConocoPhillips, Shell and Petoro took part in the evaluation work.
Steensen added:
"Experts in seismic and geology from six organizations evaluated the applications for funding and assigned grades of 1 to 7, with 7 being the highest mark. EMGS received a mark of 6 out of 7."